The Apostles of the Church of 8 Wheels are skate instructors that are sent out be messengers/ambassadors of the Church. They are spreading rolligion throughout the land by teaching the skills that will open a whole new exciting world of roller skating to all. They have all went through rigorous training and have been certified to teach skating by the Skate Instructors Association and are more than ready to teach you how to skate.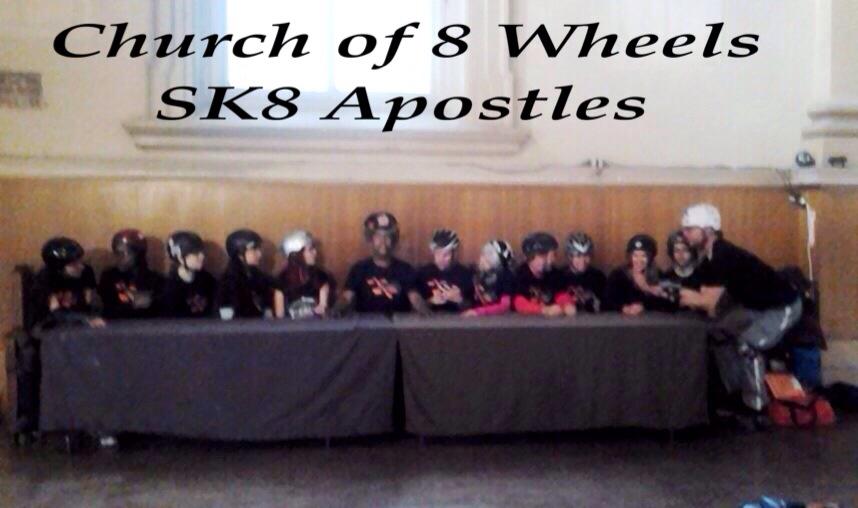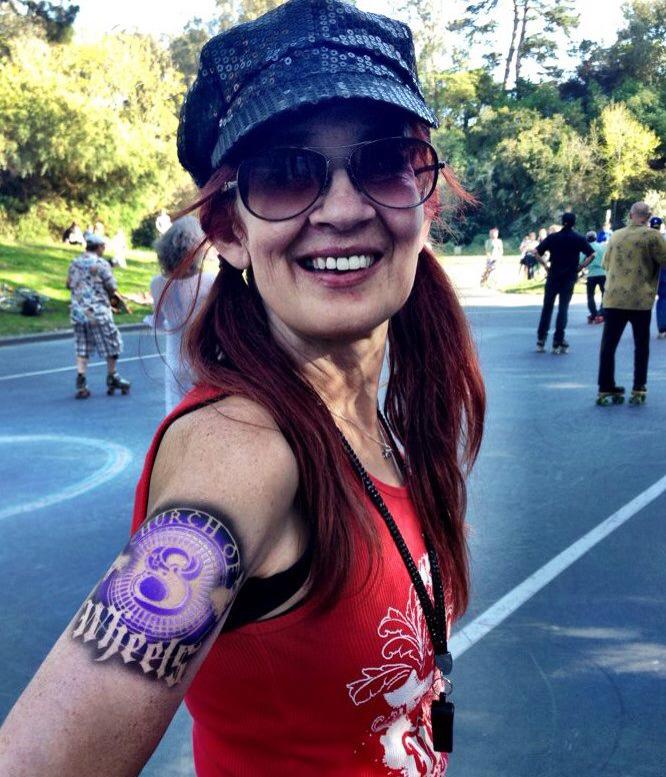 LINDA "LOVESTOSKATE" ENGLISH
| | |
| --- | --- |
| | As a native San Franciscan, I first discovered my love for outdoor rollerskating in its heyday, back in the late 70's. I depended on my skates for transportation to work (so much faster than MUNI) and spent every weekend rolling all over San Francisco. It was an amazing time, cruising through Golden Gate Park with hundreds of skaters. I hung up my skates in the mid 80's when I got married and became a mom, and spent the next 25 years busy raising my 3 sons. Then in 2009 a friend invited me to roller disco. I dusted off my old skates and discovered how much I missed them. Deciding it was time to get back in action I started going to Golden Gate Park and found a whole new community of skaters. |
| | |
| --- | --- |
| I was a good distance skater but knew nothing about rhythm skating. The skate community embraced me and began teaching me their dance moves. Line dancing with my skate family has become one of the greatest joys of my life! But that's not all – I also still love long distance skating. I joined with four other "roller girls" who also love distance skating to form a new team - the SF Roller Girls. Every year we skate the Napa Valley Half Marathon. The first two years I skated in my old school quad skates, but I was having a really hard time keeping up with my team mates in their inlines. It took me a year of hard work and regular training, but I finally mastered inlines! Now I have two loves!! Skating has changed my life for the better in more ways than I can list. | |
There is nothing to compare to the exhilarating feeling of flying through the streets on skates, or roller dancing with my friends.
Whether you prefer roller skates or inlines, I would love to introduce you to the magical world of skating and look forward to showing you how to break down the moves into easy steps. I am confident that ANYBODY can learn with the right instructor. I truly enjoy teaching everyone, but I do have a soft spot for kids. Skating is my joy. Teaching skating is my calling. Choose me and let's make dreams come true!
WANT TO LEARN TO SKATE?

CONTACT LINDA LOVESTOSKATE @